In a rare clampdown on people-smugglers, authorities in the coastal town of Zuwara arrested three Libyan nationals aged between 21 and 29 in connection with a tragedy at sea that is believed to have cost the life of at least 250 people.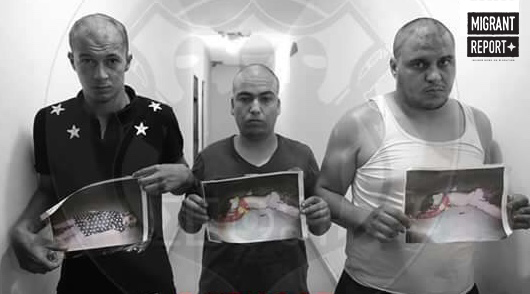 The men, all from Zuwara, were arrested late on Thursday, around 24 hours after the wooden boat they allegedly loaded with more than 430 migrants capsized around five to 10 miles off Zuwara, close to the Tunisian border.
They are 21-year-old Alyasse Krshman, Ayoub Askeer, 32 and 26-year-old Nasem Azzbi.
Police arrested the men following information relayed by survivors. They are being held by the Security Council of Zuwara. Officers there made the men – whose names have not been released – take a photo holding up pictures of dead children recovered from the coast between Thursday and Friday.
Their arrest is virtually unprecedented. In June, police authorities could not name a single arrest of a smuggler despite the town's reputation as a major hub from which thousands of migrants board rickety boats destined for Europe.
However, sources in Zuwara said they feared these three men are merely scapegoats. "These are the people who the dirty work, they are part of the smuggling network but only the foot soldiers and they are the ones the migrants would have dealings with," a Zuwaran told Migrant Report.
But the tragedy has shaken the town which is preparing to hold a demonstration in the coming days. The Libya Red Crescent has recovered 116 bodies from the town's 120km coast since Wednesday, many of them children.
The details remain somewhat sketchy but information obtained from the Zuwara municipality, the Libya Red Crescent and hospital authorities more or less converge on the following statistics.
According to survivors there were between 430 and 470 people on the boat, which departed from a beach close to the border with Tunisia. About 180 people of various African, Middle Eastern and Eastern nationalities have been rescued. That leaves about 250 people unaccounted for.
The tragedy was the second capsizing in as many days. On Wednesday another boat with 40 people overturned. The Zuwara coastguard managed to recover 25 survivors and three bodies leaving 12 people feared dead.