Residents of the Libyan coastal town of Sabratha have confirmed to Migrant Report that a sizeable group of armed men, brandishing flags of the so-called Islamic State terrorist group entered the coastal town and set up roadblocks for some hours on Thursday.
"I can tell you that they were in Sabratha, there were around 15 vehicles not 30 as some reported," a source in the town told Migrant Report on condition of anonymity.
They set up checkpoints on Kattba Avenue, a main thoroughfare that leads to the city centre.
They demanded the release of a man who had been arrested by the Sabratha Military Council some days earlier on suspicion that he was an IS operative. One of the vehicles had a man on board threatening a massacre if they did not get what they wanted.
'ISIS Never Seized Sabratha'
"The (Sabratha Military Council) arrested their man, and they came for his release, that's the long and short of it," the source said. There was no fighting.
Sabratha Mayor Hussein Dawadi told the English-language news portal Libya Herald that he had met the man's brother and accepted to release him. Mr Dawadi could not be reached for comment at the time of writing.
Contrary to some claims made in the press reports so far, however, sources on the ground insist that the group was never in control of the city. "There was no fighting
"The truth is that they released the prisoner to avoid a fight and it stopped there, we're still very worried about it but they never took over any significant part of the city" a Sabratha resident told Migrant Report.
The incident nonetheless confirms fears that the terrorist group has a presence close to the area. The first public mention of this came from Tunisian security official Rafik Celli, who had said, in the wake of the Sousse massacre that Seifeddine Rezgui, the 23-year-old perpetrator who gunned down 38 tourists on a beach of the resort town, had been trained at an ISIS camp in Sabratha.
Sabratha a Major Human Smuggling Node
The town, which is home to one of the world's best preserved Roman theatres in the world, is also a major smuggling hub for migrants crossing from Libya to Europe. Moreover, it has grown in importance over the summer as a group of vigilantes in the neighbouring Zuwara were given official sanction from the authorities there and appear to clamp down on human smuggling.
That appears to have pushed some of the traffic to Sabratha, which has always had active smuggling networks sending boats through the central Mediterranean route.
The question now is whether this new development will ramp up the pressure for action at a time when the security considerations revolving around irregular migration are at an all time high in European capitals, after it was confirmed that at least two of the terrorists who carried out the Paris attacks went through Greece, smuggled as asylum seekers.
Following the April 19 tragedy off Libya, in which some 900 migrants lost their lives in a single shipwreck, Italian Prime Minister Matteo Renzi had suggested responding with the bombing smugglers' boats on Libya's West Coast.
The plan was part of a wider strategy to send peacekeeping troops in Libya in the face of the growing presence of ISIS and other terrorist groups in the territory by securing strategic sites which would have included migratory nodes from where asylum seekers leave for Europe.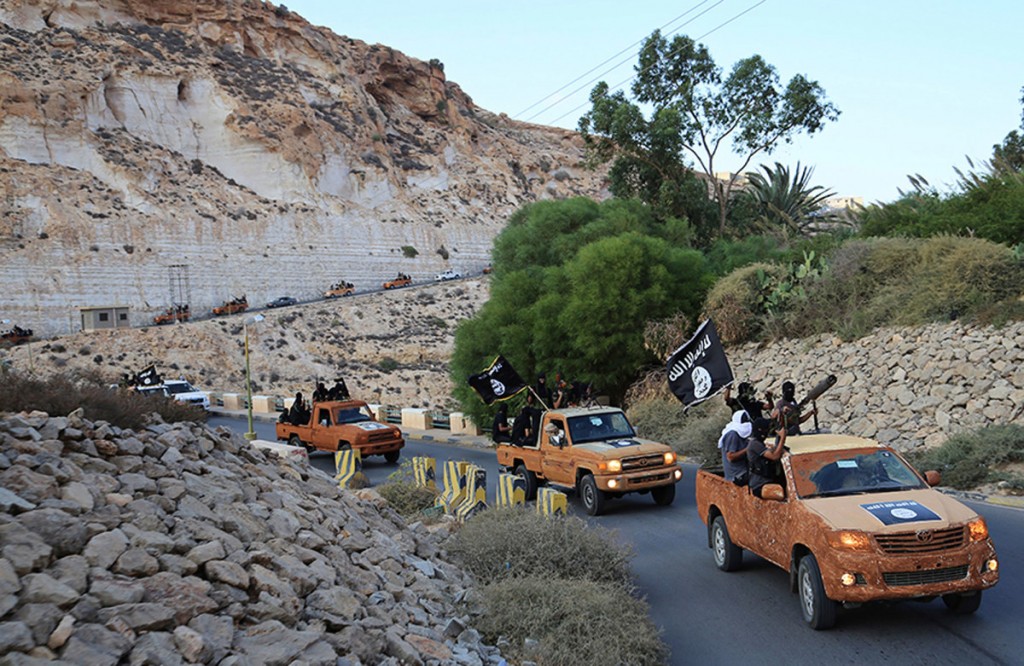 The Islamic State's first proper incursion in Libya took place in October 2013, Derna's Islamic Youth Council organised an armed motorcade to signal that it had pledged allegiance to the terrorist group, which at that point only claimed territory in Syria and Iraq.
ISIS Expanding in Libya
Italy's plan had been dramatically watered down when it reached the European Union. The EU's Foreign Affairs high Representative Federica Mogherini – who was Renzi's own Foreign Minister before taking up her present Brussels job – flatly ruled out both "boots on the ground" and bombing the Libyan coast in May.
But the proven presence of ISIS around Sabratha might change that. Previously, the group was believed to be confined in the former Gaddafi stronghold of Sirte, and in Derna which are surrounded by hostile militias from both sides of Libya's political divide.
Even in Sirte, the group is consolidating and recently started making moves towards the eastern town of Adjdabiya, where they have been resisted by the Libyan National Army, allied to the country's government and parliament exiled in the east.
Adjdabiya is another migratory node for mostly East African asylum seekers, journeying to Tripoli from where they would then pay smugglers to give them a place on a boat launched from places like Zuwara, Sabratha or Zawiya, further west.
Late last month, UN issued a stark warning to Security Council, saying that even though ISIS in Libya is viewed as "the outsider", it has relatively quickly established itself and expanded to the surprise of local groups.
"Three factors increased the number of ISIL fighters in Libya: (a) the hard core of Libyan foreign terrorist fighters who returned from Iraq and the Syrian Arab Republic; (b) foreign terrorist fighters (with a sizeable contingent comprising fighters from the Maghreb); and (c) a significant number of defectors from local Libyan groups. Although a substantial number of Libyan nationals are among ISIL fighters, these are mainly "returnees" that have fought with ISIL in the Syrian Arab Republic and Iraq in the past few years."
Besides Italy – whose economic interests in Libya include ENI's Melitah Oil and Gas complex, just 25kms from Sabratha – France too has been raising concerns about the expansion of the group in Libya.
On Friday, French Prime Minister Manuel Valls said the international effort to destroy the terrorist organisation will have to extend to the North African country.
"We are at war, we have an enemy, Daesh, that we must fight and crush in Syria, in Iraq and soon in Libya too," Valls said
His Russian counterpart, Sergei Lavrov denied that the Kremlin was also harbouring similar plans.  "This is not in our plans. We have had no requests of this kind from the government of Libya … and there is no government of Libya as such," Lavrov told reporters during a visit to Italy.
But security sources say in reality, Russia has been very active sharing alarming intelligence about the movement of fighters from Syria and Iraq to Libya as a way for the group to shore up a fall back position should it find itself ripped in Syria with the ongoing airstrikes by various foreign actors.