At least 3,900 families are believed to have fled escalating violence in the Syrian governorates of Homs and Hama, following the fall of the town of Al Qaryateen to ISIS insurgents.
Al Qaryateen, in Homs governorate, is strategically located at a crossroads between northern and southern parts of Syria.
It comes as IOM Iraq's Displacement Tracking Matrix (DTM) updated figures, released on Friday (August 28), identified 3,176,946 internally displaced Iraqis (529,491 families) across Iraq from January 2014 to 13 August 2015.
The majority of IDPs (70 per cent) are living in private settings, including: rented housing (39 per cent), host families (29 per cent), and hotels/motels (1 per cent.) A further 19 per cent live in critical shelter arrangements, including: unfinished buildings (9 per cent), religious buildings (5 per cent), and informal settlements (4 per cent); 8 per cent live in camps, and the shelter type of 3 per cent are unknown.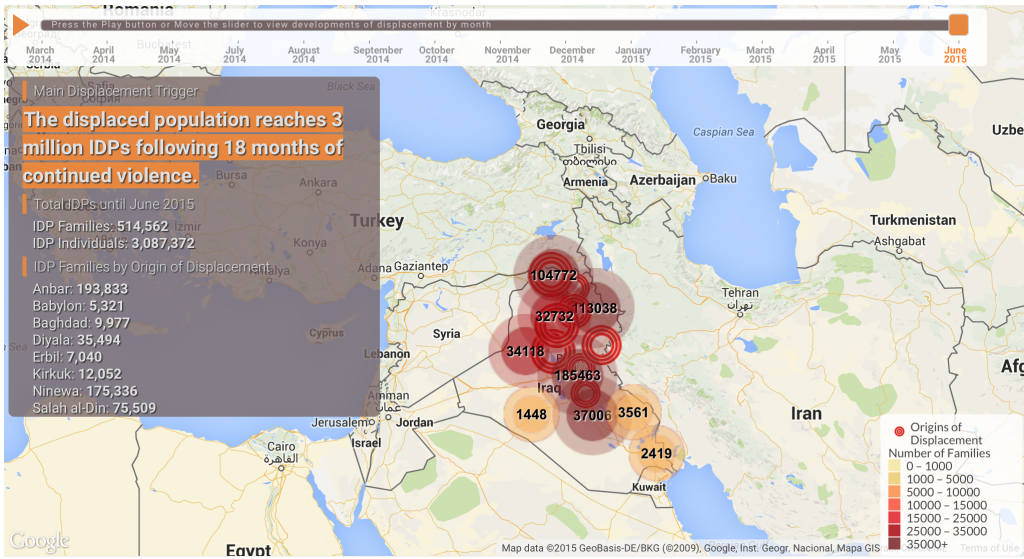 A map showing an overview of displacement in Iraq in June. Source: http://iomiraq.net/dtm-page
Back in Syria, on August 19th, IOM delivered non-food relief items to 400 vulnerable al Qaryateen families sheltering in the villages of Al Furuglus, Al Manzoul, Al Harrat, Muheen, Saddad and Homs city. Most are staying with host communities or in rented houses.
"We left our houses without anything when the bombardment started. We left our belongings and cannot afford to buy anything to meet our basic needs," said former Joureen resident Samar.
"The response to the sudden displacement in Homs and Hama was no easy task," explained IOM field coordinator Ramez Kabak. "The roads that lead to these hard-to-reach areas are really dangerous. It is becoming more and more difficult for us to transport items or reach people in need. But, in coordination with our partners, we are still managing to provide assistance to displaced families," he added.
In the coming days, IOM is planning to expand its operations to more hard-to-reach areas, targeting 600 vulnerable displaced families in Muheen and Hawareen villages in Homs governorate.
Meanwhile, on August 30th, IOM opened a new Public Health Care Centre (PHC) in Homs' Al Shammas neighbourhood to provide primary healthcare services, including maternal and child care, to displaced and host community families.
IOM is expected to open four PHCs in the upcoming months – two in Rural Damascus and two in Aleppo – one of which will be in a cross-line area. The project will be funded by the UN's Central Emergency Response Fund (CERF).
In coordination with other humanitarian partners on the ground, IOM will continue to provide vulnerable families with essential relief items. As the fighting in Homs and Hama continues, more displacement is likely and more funding will be needed.
The scale of the displacement feeds into the current debate taking place in Europe, which is facing an unprecedented surge of migrants and refugees this year.
However, the IOM's survey indicates that of the assessed population in Iraq, 94 per cent intend to return to their place of origin. An equal percentage (94 per cent) report feeling safe in the location of displacement, while 6 per cent do not feel safe in their area of displacement. The indicated primary need is shelter, followed by access to work and water.
The most frequently indicated primary reason for displacement is generalized violence and armed conflict (96 per cent), followed by direct threat to family (2 per cent), and family member killed in general violence (1 per cent).
IOM Iraq Chief of Mission Thomas Lothar Weiss said: "Displacement in Iraq is ongoing; as violence continues millions of people are forced to live far from their homes. In order to most effectively use our limited resources to aid the most vulnerable, it is essential for the humanitarian community to continuously update our knowledge of the needs of displaced people. IOM is working in cooperation with the UN Humanitarian Country Team, humanitarian partners, and government authorities to access hard to reach areas and deliver the life-saving humanitarian assistance required."
The most recent IOM Iraq DTM Dataset, Dashboards, and Dynamic Displacement Map, in addition to previous DTM products, can be found at: http://iomiraq.net/dtm-page