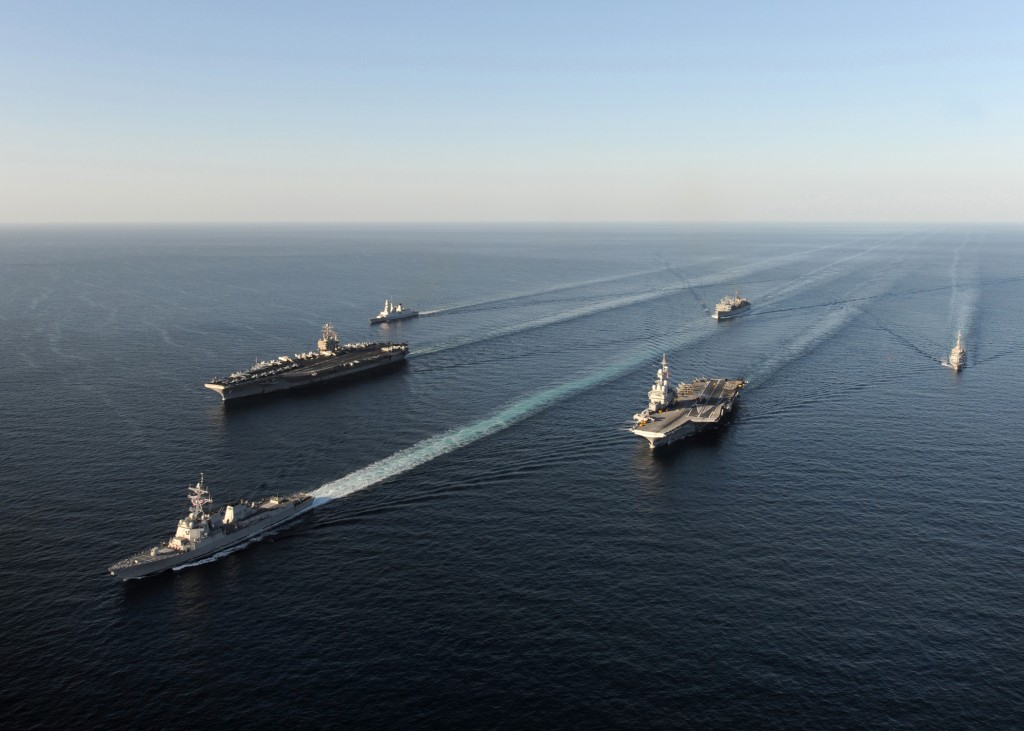 EU ministers have agreed to launch EU Navfor Med, a naval operation in the Mediterranean which aims to disrupt people-smugglers operating from Libya.
In an urgent statement this afternoon, EU High Representative Federica Mogherini said: "We thought it was a right to give you the news immediately: that the decision to launch the naval operation has just been taken. It is probably the first time the EU takes the issue of migration so seriously [and decides to launch an operation] in such a fast way, with unanimity and unity. I would say this is a sign that European Union is going to turn the page."
The mission will start "in the coming days".
The decision was taken at an EU summit for foreign ministers being held in Luxembourg. The operation is part of a stepped-up European response to a surge of migrants from Africa and the Middle East. So far this year, Italy and Greece have already taken more than 100,000 migrants.
"Less than two months ago, the European Council tasked us to prepare an operation in the Mediterranean, to save lives, first of all, and disrupt the business model of human traffickers and smugglers. The operation is being launched today. The target, let me be very clear, are not the migrants, the targets are those who are making money on their lives and too often on their deaths. It is part of our efforts to save lives," Mogherini said.
The original idea for the operation came from Mogherini's former boss, Italian Prime Minister Matteo Renzi, who originally suggested that the EU should use drones to bomb smugglers' boats on the Libyan coast to prevent them from using them.
However, that ill-conceived idea was quickly watered down and it now consists of EU naval vessels planning to intercept and arrest smugglers out on the high seas. Smugglers can be often seen sailing out to rescue scenes to recover the wooden boats from which migrants would have just been rescued.
Tough Talk But Baby Steps
Despite the tough rhetoric the actual first step is to figure out exactly what is going on in the Mediterranean. Migrant Report's discussions with military and naval sources indicate a that this is a far more basic first step.
"At this stage what the EU mission will do is intelligence gathering.  This is something that has been going on for years.  I cannot understand what EU Navfor Med is going to discover that member states such as Italy do not already know," said one former high ranking military official who did not want to be named. 
Building intelligence is the first real task and then once the EU figures out what intelligence and police agencies already know, less bellicose action plans will emerge. Right now smugglers purchase used fishing boats from Egypt and Tunisia and ship them to Libya and Tunisia.
They are fixed up enough to look good in photographs on Facebook and then gather migrants from various holding centres inside Libya from small feeder boats. Then when they reach the boat they have rented, they are loaded over capacity and a migrant who is briefed about rudimentary navigation or engine management sets off to the Bouri oilfields, about 120 kilometres off Libya, where they are then directed to head towards Lampadusa.
Often migrants refer to the "Rescue Spot" where naval and private vessels are tasked with search and rescue if a boat is overloaded, unseaworthy or in trouble. The once offloaded, the boats are often quickly retrieved by Libyan and Tunisian "mother ships" for reuse.
In one case, Migrant Report confirmed that one sturdy 18-metre boat was used at least three times in less than a week before being sunk by the Italian navy and being featured in news coverage on MOAS and CNN with Christiane Amanpour.
Removing these boats and arresting smugglers would be a simple scenario in the Mediterranean, which has already been played out. In November last year an Italian vessel fired on smuggler vessels following a chase, while later in April, an Icelandic was fired upon by smugglers but decided not to return fire for fear of migrants getting  hurt in the process.
It is doubtful that the EU wants to turn the humanitarian rescue process into a shooting gallery, however, there is no indication that the smugglers will respond courteously to being targeted. It is most likely that the smugglers will simple adapt.
Crudely made rubber rafts are are the cheaper version of transport. They often fall apart from the plywood floors or constant hammering at sea and are rarely retrieved. The EU calmed fears that they had declared war on migrants, something that had created international outrage during the Gaddafi era. 
"Let me be very clear: The targets are not the migrants, the targets are those that are making money on their lives and too often on their deaths. It is part of our effort to save lives," Mogherini said.
The decision comes as French President Francois Holland pledged support for a plan agreed by Italy and the UK to set up an intelligence cell in Sicily to probe people-smuggling networks.
The initiative would take place under the Europol aegis and be based in Sicily, which has become a collection point for virtually all migrants traveling from Libya via the central Mediterranean route. However, the UK also pledged to replace the HMS Bulwark, the UK's flagship aircraft carrier in the Mediterranean, with the HMS Enterprise, a far smaller military vessel, which will have the dual mission to save lives and gather intelligence.
A team from GCHQ, the intelligence agency for the UK's army and navy, would be on board the Enterprise to help identifying the smugglers facilitating the mass-exodus of migrants from Libya. Downing Street said HMS Enterprise would help by gathering intelligence "while continuing to rescue people, as necessary".
This is what EU Navfor Med will be doing in the first phase of operation. Without a UN mandate, EU vessels cannot simply enter Libyan territorial waters and attack or seize arrest vessels, especially as the internationally-recognised Libyan government is objecting to the mission.
Is Libya A Stakeholder?
EU ministers are still hoping to obtain Libyan consent at a later stage. Britain, France, Lithuania and Spain, which all belong to the 15-member UN Security Council, had been drafting a resolution to approve the EU operation under Chapter 7 of the UN Charter, which allows the use of force.
Diplomats said the work was put on hold earlier this month following the stance taken by the Tobruk government. Meanwhile, the administration in Tripoli, which though not recognise, controls the territory to the west of Libya from where most of the migrants are leaving for Europe, also object to any military intervention.