Mussie could not believe his ears when he heard Nezreth's voice for the first time in a more than two months. She had miraculously escaped ISIS in Libya after having been abducted with a group of men who ended up being beheaded and gunned down in the second terror film released from inside the warring North African state.
The 37-year-old Eritrean had a thousand questions to ask but the most pressing one was about his ten-month-old son, Yottam. More than anything, he wanted to hear the boy's voice. "I asked her to put him through so I could speak to him but she said he was sleeping."
He was so overjoyed but when he called over the next couple of days he kept being told the same thing. Something was wrong.
He finally pressed his wife to put him through. She passed on the phone, but there was her friend on the other end of the line, struggling to put together the words. Yottam was dead.
Mussie chokes up and wipes the tears streaming down his cheeks as his mind recalls this moment. When he left the Eritrean capital, Asmara, headed for Europe two years ago, his plan was to obtain asylum and then send for his family and have them travel legally.
But Nezreth, who is ten years younger than him, grew impatient and in February surprised him with a call from Libya. He asked her to go back but she wouldn't listen.
So when she finally made it out, she was racked with guilt and couldn't bring herself to tell her husband the boy did not make it.  Yottam had been sick and when they were captured his condition worsened. Nezreth begged the captors to call a doctor until one day, two of the jailers walked in, took the boy and brought him back dead some hours later.
The last time Mussie heard from his wife was on March 2. She called to tell him she was leaving Ajdabiya, a town in northeastern Libya which serves as a main collection point for migrants pouring into the country from the East African route. She was headed for Tripoli from where she planned to take a boat to Europe and then travel to Germany and reunite with him.
One day into the journey, their truck was stopped at a checkpoint. Two dozen armed and masked men told them to get off.  Terrified, they started being asked religious questions. They quickly weeded out the Christians and the Muslims were allowed to leave.
Nearly 3,000kms away and with no phone contact, Mussie was in the dark, and days started going by without a word from Nezreth. He started desperately calling whoever he could in Libya to get some information.
"Eventually I called a guy with whom I had contact and he told me; I don't know most probably… she's in the hands of ISIS". He didn't believe him. But then he saw the infamous video that ISIS circulated on the internet in mid-April, the word was out that many of the victims were Eritreans.
Eritreans in the Crosshairs
The group that was lined up in orange and black work suits in the April 19 video included some Ethiopians but majority were actually Eritreans. While their government condemned the murder, the regime in Asmara had nothing to say about it and the Eritrean connection was not made until days later.
Eventually, Meron Estefanos, co-founder of the International Commission on Eritrean Refugees in Stockholm, began piecing the facts together after she started receiving phone calls from relatives from all over the world.
Some eight Ethiopians and 82 Eritreans, including 10 women, two children and 13 minors had been taken from that March 4 convoy.
All of the adult men, 62 people killed were killed. At least three of them were Eritrean asylum seekers who sought refuge in Israel but were instead instead encouraged to take part in a "resettlement" programme to Rwanda and Uganda.
Three months later, on June 3, there was another kidnapping. This time 86 Eritreans, including 12 women and children, were taken. The vast majority were from a city called Adi Keih.
Estefanos says the news has reverberated across the Eritrean diaspora but many still take their chances. "The group that got kidnapped in June had seen the video from April, they still travelled to Libya. They are desperate, it's make or break and unless you have the money to go through Turkey and Greece, Libya is pretty much your only option," she said.
Some are venturing into Egypt but the sea journey from there – it can take between one and two weeks to get to Italy from Cairo – is more dangerous than the Libyan crossing.
Over the past month or so, more managed to escape, taking advantage of the group's need to move the prisoners around due to ongoing fighting. A group of teenagers gave an interview. However, no one of the survivors to provide an exact location where they were kidnapped. However, based on accounts given so far, their point of departure, their direction, and the fact that they had been on the road for just a day, the likeliness is that they were both stopped near Nawfaliya, a very small town on road from Ajdabiya to the capital.
The road through the town provides one of the few alternatives to the safer coastal road, which is not viable for smugglers because it is heavily policed around Misurata.
ISIS has been in control of large parts of the nearby city of Sirte for some town now but it's militants have been also known to move in and out of this area. Ajdabiya itself been a hotspot for many Islamists, including ISIS itself.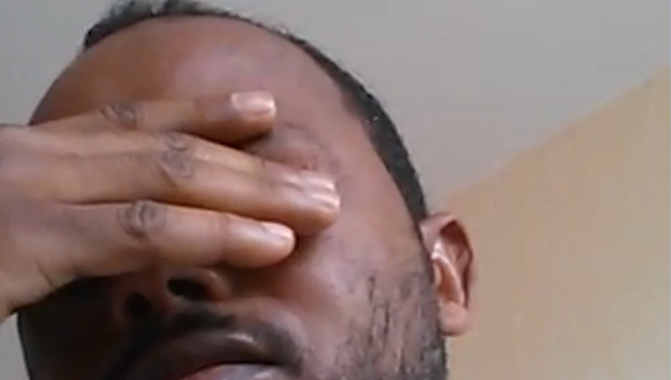 'She just called, out of the blue'
When Nezreth disappeared, Mussie kept calling Libya, frantically searching for news. Just when he started resigning himself to the possibility that they might be dead, "she just called, out of the blue and said she was in the middle of nowhere."
She had managed to escape on May 13 with a group of another seven women, one of them heavily pregnant.
At this point, with nobody to turn to, Mussie called the smugglers who were in charge of the journey to Tripoli. "They said they could do nothing about it because the area was dangerous." The women's whereabouts were unclear but they were further east of Ajdabiya, closer to Libya's third city, Benghazi.
Eventually, the Eritreans smugglers made contact with the women and brought them back to Ajdabiya. The Eritreans act as middle-men in a network run by Libyans and Sudanese working the routes from Khartoum to the central region of Libya.
They were kept in a farm with a group of between 100 and 200 other migrants, preparing to make the same journey to the capital.
"I told her again to go back to Sudan, but she didn't want to. She said, after I lost my child I will take my chance," Mussie said.
She had paid some $1,800 for the trip from the Khartoum to Tripoli but at this point Mussie said the smugglers were not talking about money.
"They said they would take care of her. They said they would not let her go and that she and the others would stay with them until it was safe to cross," he said.
He does not trust them, especially because he feels the kidnapping would not have happened had they been more careful. "It's all about money. I remember that when I travelled this route, we were in a convoy of five or six small cars. These guys just sent them alone in one car. They are carless because this for them is only about money," he said.
"But what could I do? Who else could help?"
He was well aware of the risk she faced, having made that same journey himself, but at this point, he knew there was no turning back.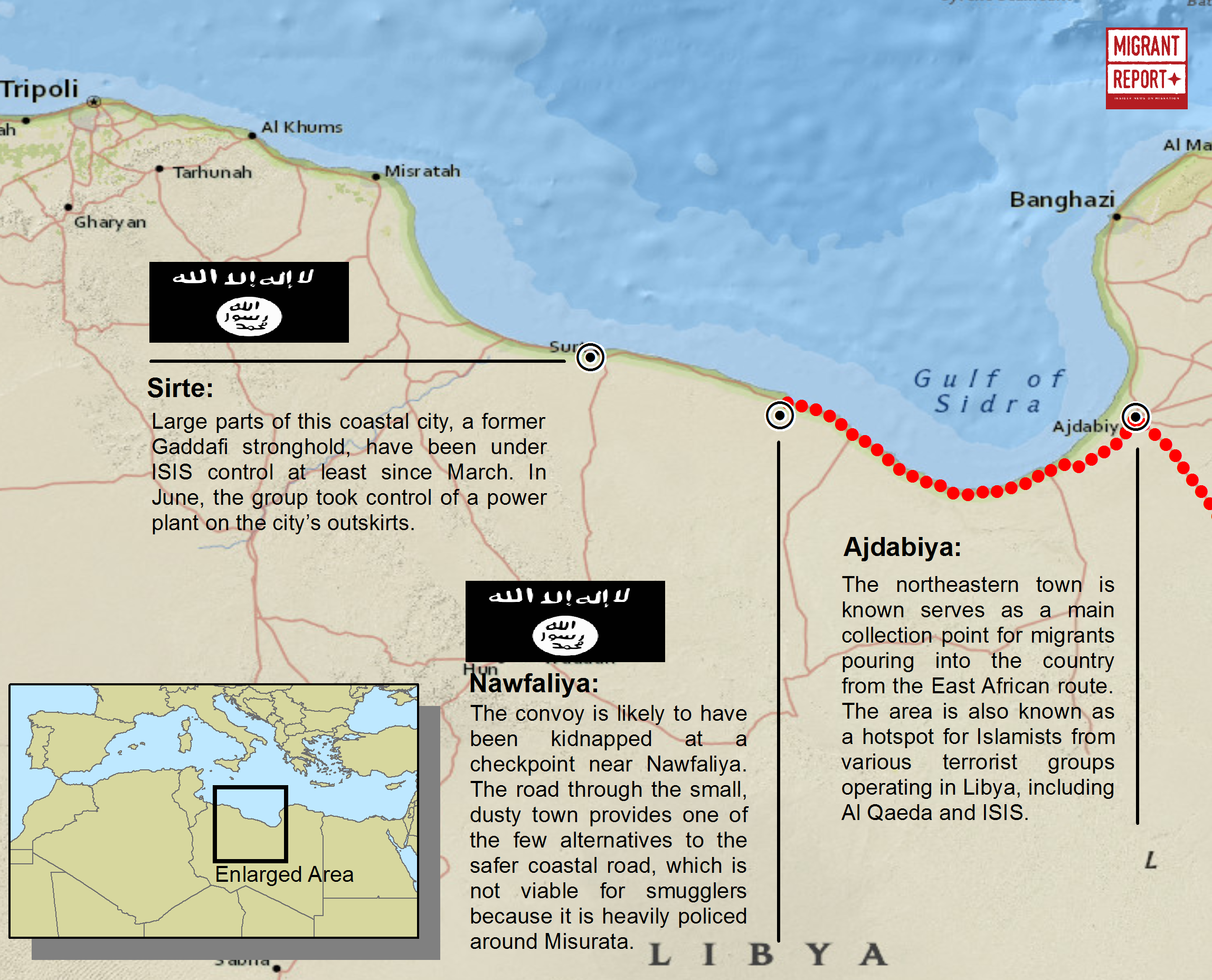 The EU has just approved a scheme that will see the bloc welcome 20,000 asylum seekers from outside the union, providing a legal corridor for such would-be refugees but that will not be on stream for a while and the odds of getting a ticket on that scheme is similar to winning big on a lottery.
Nezreth managed to get on a boat on June 20. She was rescued by an Italian navy vessel and taken to Augusta, Sicily. After a day or two at a reception centre there, she managed to travel to Berlin, where she finally joined Mussie. She still doesn't talk much about her three-and-a-half months at the hands of ISIS.
At this point, Mussie cannot help but look back on his choice to leave Eritrea. "I wouldn't do it again. I wouldn't repeat it, no. I came to realise that things are different than I thought."
The boy was a very big part of his decision to leave. He wanted something better for his child so he packed up and left well before he was born. His relationship with his first born son had been forged over the phone and through the pictures he would be sent by Nezreth and his relatives. In the end, even the dreaded news came to him through a distant phone call.
"Things changed for me personally because of my family now. I lost my child, my wife is in a difficult situation. When reached Germany I told her it takes some time to get the papers, but she lost patience and did this terrific trip. So now things changed for me personally."