The EU is preparing to hold a summit with Turkey by the end of November or Beginning December with a view of putting in place an action plan that would help manage better the refugee crisis on the Aegean.
The subject was the main focus of an informal meeting of EU leaders which was convened on Thursday right after the Valletta Summit that saw the same leaders meet African counterparts in the first such gathering focused on migration.
The informal meeting was briefed by Commissioner Frans Timmermans who has just returned from Turkey.
Sources close to the council said the trip appears to have been successful. Broadley, Turkey is asking for greater burden sharing and a financial package in return for it boosting welfare for mostly Syrian refugees who are currently residing in the country after having fled the war.
According to the latest UN figures, it is estimated there are 2.2 million Syrian refugees int he country. The lion share of them are not in camps, while 900,000 are believed to be minors.
They form part of more than 4.2million refugees registered with UNHCR and who are scattered in the region – around 1.1million in Lebanon, 630k in Jordan, 250k in Iraq and some 150k in Egypt and Libya, besides the people in Turkey.
That compares to about 682k applications by Syrian refugees received in all of Europe since April 2011, shortly after the war broke out. But the numbers have been growing exponentially.
The number of people crossing through the central mediterranean – previously the most prolific irregular migratory route to Europe – has been completely eclipsed by those crossing from Turkey to Greece on the eastern Mediterranean (see map below).
Keeping in mind the potential of so many thousands more refugees attempting to cross over to Europe in the foreseeable future, EU leaders are keen on helping Turkey provide education, give refugees work permits and employment opportunities.
The EU hopes this will slow down the flow of asylum seekers but it is also hoping to couple this process with a more robust joint border patrol programme.
In return, Turkey is demanding a financial package (€3.5billion have bee earmarked for this purpose); that discussions on visa liberalisation be fast-tracked; that Turkey starts being invited to EU Summits (it used to be before it started EU accession talks but stopped being invited); that EU-accession talks be given a new boost.
It looks as though all of these points will be met in some form.
Speaking after the meeting, German Chancellor Angela Merkel said progress was being made. "We do not have a permanent relocation and resettlement programme but progress was being made with the hot spots that would ensure there is a mechanism in place to screen the people entering the EU".
About the agreement with Turkey, she said it's only fair that this country, which currently hosts more than two million refugees, should ask for help from European partners.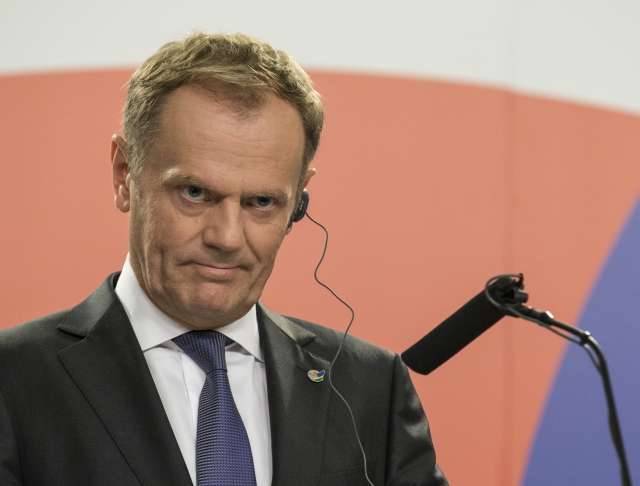 Simultaneously, European Council president Donald Tusk was addressing another press conference in which he reiterated comments he made in the morning, that the Schengen agreement was under threat and time was running out.
"We need to regain control of the external border as a precondition for European migration policy," he said. He stressed that the EU would respect its obligations to migrants, but without registration there were no rights.
His words come after Sweden announced it would be introducing temporary border controls and Slovenia embarked on a fence-building project on its border with Croatia.
When he talks about the protection of Schengen Tusk appears to have in mind further border controls but also the re-evaluation of the Dublin regulations.
The controversial rules demand that asylum seekers be processed in the country where they would have first landed. But over the summer, the regulations went out of the window as the more than 650,000 people who landed in Greece in 2015 pushed north via the Balkans, challenging every single border on the way.