The images of a dead Syrian boy lying face down on the beach in Bodrum Turkey became the latest graphic reminder of the unfolding tragedy in the Mediterranean.
The pictures, first published by the Turkish Dogan Haber (DHA) news agency, show Turkish officials recovering the body from the beach of the southwest riviera, known as a tourist major hub. The boy was one of five children recovered from among 12 bodies that washed up on Bodrum's shores.
They are the victims of two separate incidents which happened within two hours of each other at night between Tuesday and Wednesday. The would-be refugees were trying to reach the Greek island of Kos and had left from Bodrum itself. The bodies, according to DHA, washed up at around 6am on Wednesday.
On the first boat there were 17 Syrian refugees. Only seven made it. The bodies of two children and eight adults were recovered, while two men remain missing. The second accident carried six people from the Kurdish town of Kobane in Syria. The bodies of three children, under three years of age were recovered along with that of a woman.
A man who was rescued said they had paid smugglers some €2,000 per person for the journey.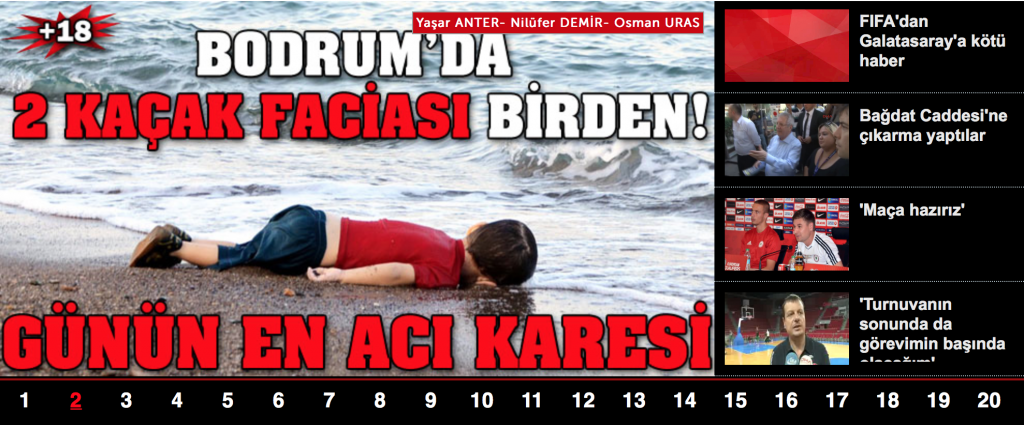 The tragedy comes less than a week after volunteers from the Libya Red Crescent and concerned citizens from the western Libyan coastal town of Zuwara scrambled to recover dozens of bodies washed ashore after a boat carrying between 430 and 470 people capsized a few miles off shore.
Because the boat had capsized so close to shore, the cadavers started washing up on the same day of the accident. A crew from the Zuwara coastguard was returning to port after sundown when they were called to a beach near the town of Abu Kammash where five children were found dead.
Migrant Report decided to publish the pictures of the children recovered in Abu Kammash on Saturday, provoking a debate on the representation of the crisis in the Mediterranean.
Major news outlets, like NBC, Euronews and The Guardian on Wednesday also decided to publish images of the dead Syrian boy on Bodrum's beach. 'If these extraordinarily powerful images of a dead Syrian child washed up on a beach don't change Europe's attitude to refugees, what will?' asked the UK's Independent newspaper.
The news from Turkey came as more than 2,500 people were rescued from the central Mediterranean in the seas off Libya on Wednesday. Earlier in the morning, two ships brought more than 4,200 people to Piraeus in Greece after leaving the island of Lesbos.
Simultaneously, hundreds of asylum seekers were left stranded at a train station for the second day in the Hungarian capital Budapest where authorities are blocking them from  travelling on to Germany and other EU countries.
There are an estimated 2,000 people camped at the capital's Keleti train station, having bought tickets for onward journeys.