The remote research team geolocated the villages where the respondents originated from and mapped them, in order to triangulate oral testimony with satellite data. There was a strong correlation between the villages in the satellite imagery and our own reports.
A number of respondents reported witnessing mosques in their respective villages being targeted by assailants. The targeting of religious structures provides evidence that suggests religious discrimination and targeted attacks to instil fear and force local Rohingyas to leave.
❝
The military entered my village and started looting shops and setting fires to five or six mosques. When I saw this, I left my house. Between 50-60 houses were burnt in my village.
❞
Nur, 35, Godu Sara (Maungdaw).
In addition to severe destruction of property, arson was also allegedly used to murder individuals and families by intentionally trapping people inside burning buildings. There were numerous reports of fatalities caused both incidentally and intentionally by these operations.
❝
I was at my house at the time. My children were at madrassa when the Burmese military set fire to the mosque. It was burned down with my children inside.
❞
Fatama, 29, U Daung [Kone Tan] (Maungdaw).
Many respondents described witnessing the military attacking villages in systematic offensives, charging into villages and shooting indiscriminately.
❝
The military started shooting at the people forcing them to run away to the hills. On returning I saw some dead bodies.
❞
Ajimullah, 65, Than Dar (Maungdaw).
Testimony indicates that there appears to have been a series of coordinated attacks across the region, directly aimed at forcing the Rohingya to flee.
❝
The military were shooting in my village, killing some of the villagers near my house. I then went to the river side and stayed there for three days. After that the military were shooting at the river side.
❞
Yasin, 35, Kyauk Pyin Seik (Maungdaw).
Despite the fact that independent investigators are barred from northern Rakhine, the frequency and quantity of similar reports indicates widespread use of these tactics across the region. The Xchange team met numerous respondents with injuries that appeared to be caused by gunfire.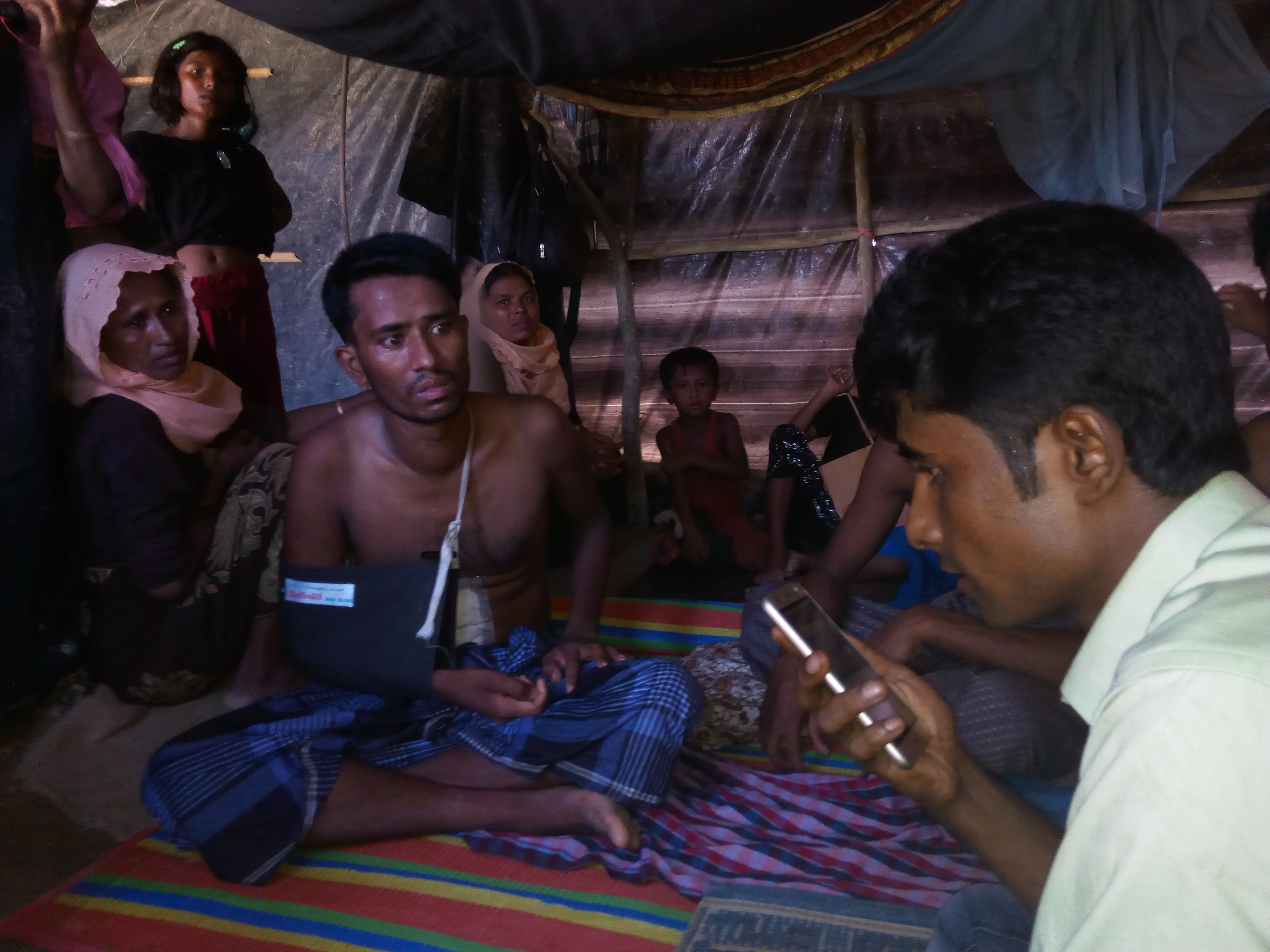 Enumerators collected numerous reports that claimed indiscriminate gunfire and/or targeted assassinations by the military or other groups resulting in a large number of casualties. Many respondents report witnessing the death of a fellow villager or a family member.
❝
The Military were shooting in my village. They shot and killed my son in front of my house.
❞
Sirajul, 55, unknown village (Maungdaw).
Many respondents either witnessed or experienced varying forms of sexual violence, including rape, gang rape, and sexual assault, committed against both minors and adults. Rape, at times, resulted in death, or was quickly followed by other abuses that resulted in death. Often, family members or members of the public witnessed the abuse, or the victim of the sexual abuse was made to watch the murder and/or abuse of their family members. Thus, multiple violations and trauma were incurred in a short period of time for many respondents:
❝
The military started fires in my village. They forcibly entered my house. They raped me and stabbed my husband in the stomach. My young child was taken away from me and thrown into the fire. When I started crying, they raped me again.
❞
Hala, 35, Sein Hnyin Pyar (Buthidaung).
Respondents reported that the perpetrators made calculated decisions to target women and girls by rounding them up, or kidnapping them after storming the villages, indicating a calculated campaign of sexual violence against women and girls.
❝
The military entered my village when I was in my house, searching for people and young girls. When the young girls were found, the military raped them.
❞
Rama, 50,Ka Nyin Tan [Pa Din] (Maungdaw).
❝
The military and Rakhines took numerous teenage girls away from my village. They raped them and then sent them back to the village after two or three days.
❞
Anwar, 45, Kyun Pauk Pyu Su (Maungdaw).
Often, women were raped by multiple perpetrators in a gang rape, either in front of family members or in public to terrorise them, instil fear, or humiliate and shame them. The fact that many of the reports of sexual violence were not from the victims themselves but witnesses – often to gang rapes - demonstrates the public nature of the incidents. The Myanmar military and ethnic Rakhine 'extremists' were identified by witnesses as the perpetrators of these crimes.
❝
The Burmese military stripped the women naked. A soldier held a knife to the throat of one and began to rape her. 15 soldiers took turns raping the women over several hours. I felt like they would kill my wife.
❞
Abusayed, 36, Kyar Gaung Taung (Maungdaw).
In some cases, there were accounts of sexual assault and torture by mutilation, where women's body parts were also cut off during the rape:
❝
She witnessed women being sexually assaulted (the nipples of women cut off, and other parts of the body mutilated) and raped.
❞
Somira, 30, Kyaung Taung (Rathedaung). Reported by enumerator
Torture was also corroborated by other accounts:
❝
I was at my house when the Burmese military and extremists were torturing girls. 32 girls were raped and 23 people were shot and killed.
❞
Azida, 22, Maung Ni fara (Maungdaw).
Women and young girls were also subjected to "stripping" and sexual assault, in isolation or before they were raped:
❝
The military ripped my baby away from me. The military and Rakhine extremists stripped the women naked. Many were brutally killed. The military then burned down the houses in his village.
❞
Roshid, 52, Kyein Chaung (Maungdaw).
❝
I lost my baby girl, they stripped down my girl so that, I am sorry for my girl..
❞
Shaju., 28 Doe Tan (Maungdaw)
It is worth noting that the actual incidence of sexual violence is likely much higher than reflected in this data set, as there is a culture of stigma and shame around sexual assault and rape could dissuade reporting, particularly by victims themselves.
An alarming, yet frequent category of incident was the targeted murder of children and infants.
❝
In the morning around 8 am, the Burmese military were surrounding different villages including my own village. Several homes were burnt with petrol bombs; many people were brutally murdered by the Burmese military together with Rakhine extremists. Kids were slaughtered by the Burmese military.
❞
Bitani, 48, Chein Khar Li (Rathedaung)
A total disregard for life and dehumanisation of the Rohingya is demonstrated by such reports:
❝
The Burmese military ripped my baby from my arms and kicked him like a football
❞
Azara, 29, Kyar Gaung Taung (Maungdaw)
The use of fire was widespread in these attacks. The most common incident of this type reported by survivors involved babies being taken by the military and thrown into fires:
❝
In the morning the military and extremists killed more than a dozen and women were sexually abused. I witnessed more than 20 people being killed... my two sons were thrown into the fire and burnt alive.
❞
Dil, 31, Dar Gyi Zar (Maungdaw).
❝
The Rakhine extremists and military entered into people's houses to search for any valuable things, taking whatever they wanted. They used bombs to burn down houses and the village. They threw many children into the open fire.
❞
Rofiq, 47, Remmyá Dáung fara (Maungdaw)
In addition to being thrown into fires, other reports describe babies being thrown into rivers;
❝
The Myanmar military and local Rakhines killed the children with a knife and threw the children into the river.
❞
Shofika, 38, Kyun Gaung (Maungdaw).
These incidents paint a picture of extreme dehumanization, where infants and younger generations of Rohingya may have been actively targeted for eradication by the Myanmar military and Rakhine extremists.
Although the violations described in this report are representative of some of the most commonly heard and extreme forms of violence carried out against Rohingya populations, since August 25th, this list is by no means exhaustive. As noted above, the structure of the survey question on incidents was descriptive and open-ended, to allow the respondent to describe, in their own words, what they had witnessed or experienced first-hand. Other categories of violence included:
Robbery and Looting
Robbery and looting was commonly conducted against Rohingya homes and businesses. Testimony indicated that the military was responsible for entering villages, shops, and homes and either demanding payment, or taking possessions without permission. These items commonly included cash, valuables, and cattle.
❝
There had been gangs disturbing them since October 9th, and finally the military came with the gangs into the village searching for valuables and looting places. They demanded money from every person; whoever refused had to flee or was shot.
❞
Hair, 25, Kyar Gaung Taung (Maungdaw)
❝
In the morning of September 4th, the military/extremists entered my village with five trucks. They were checking big houses, and found rice, potatoes, and other items. They looted whatever they found. After half an hour, another truck came with soldiers who started shooting at everyone.
❞
Anwar, 31, Ah Lel Than Kyaw (Maungdaw)
Kidnapping or arrest
Some testimonies report that the military and/or police arrested, kidnapped, or took away civilians without due cause or explanation. Some respondents reported the disappearance of their family members with some still unable to contact them, and others found dead.
❝
The Military and Rakhine burned all the houses in my village. They took away my husband from my house. I do not have any news about him since arriving in Bangladesh with my two sons.
❞
Layru, 30, Khamangsi (Maungdaw).
❝
The military came just one day after the violence occurred. They started arresting the people from the villages, accusing them of joining a terrorist group and threatening to take them to the police station, but they were killed by the military. The dead bodies were handed over to the families and their families could not even recognise their faces. After that day, my village was burnt down and I had to leave the country.
❞
Mohammed, 50, U Daung [Kone Tan] (Maungdaw).
Curfews and extreme restriction on mobility
Restrictions on Rohingya freedom of movement have been in place since at least 2001, but restrictions increased in severity following the 2012 violence. These restrictions have also been imposed on other Muslim minorities across Rakhine State. Respondents regularly described curfews or restricted movement from their villages imposed by security forces. Although such restrictions had been in place in northern Rakhine for a long time, the events of August 25th and the subsequent crackdown resulted in their intensification.
Respondents describe restrictions that amounted, in effect, to an existence under house arrest, enforced by a dense network of checkpoints and bureaucratic restrictions (such as permits) that limited their ability to move freely:
❝
The military and Rakhine enforced a curfew on my village. I had a job but the military and Rakhine didn't give me permission to go to my job.
❞
Faruk, 40, Min Gyi [Tu Lar Tu Li] (Maungdaw).
❝
The military and Rakhine placed a curfew on my village and I couldn't move anywhere.
❞
Abdumalek, 40, Thin Ga Net (Buthidaung).