In this video-report, Xchange explores the experiences of Venezuelans migrating on foot in an attempt to understand what life in Venezuela is like, what the biggest challenges and risks are for the men, women and children migrating, what day-to-day life is like in Colombia and what their plans for the future are.
Push and Pull factors
Life in Venezuela
All participants mentioned scarcity of food as the main reason behind their decision to leave Venezuela. Although most of them were working at the time that they decided to migrate, they said that they were unable to afford food with their salaries. For those who were not working, not being able to afford basic goods was also the main reason that they chose to leave their jobs in the first place.
❝
After getting my [monthly] salary, the most I would be able to buy would be 2 kilos of rice and 1 kilo of cornmeal.
❞
❝
A weekly salary will pay for a day's worth of food, and the monthly one for 4 days.
❞
Lack of access to healthcare also ranked highly on participants' reasons for migrating. Many went into great depths to discuss the lack of access to some of the most basic medicines and the fatal consequences it has had for Venezuelan citizens. Two participants had direct family members who had recently died due to lack of access to medical treatment. Another two participants had daughters with chronic illnesses that they were unable to get treatment for in Venezuela.
❝
My daughter needs to have operations on her feet and I got a consultation at one of the public hospitals, [but] she never had any of the three operations she needs, as one was needed was she was 10, another one at 15 and the last one should be now that she's 18.
❞
Every participant reported that Venezuelans are dying due to scarcity of medicines and doctors. When asked what they do about this, a few said that they live everyday trying not to get ill, because if they do get ill, they will either not be able to afford the medicines needed or hospitals won't have them in stock.
❝
If you get ill, you would rather not go to the doctor because if you go you won't have money to buy the medicines anyway, so people will stop themselves from going to hospital as medicines are nonexistent.
❞
Additionally, participants reported that power cuts are extremely common, leading to no electricity in the homes, which worsens food insecurity, or no electricity in hospitals, which severely limits access to medical care. Due to hyperinflation, notes are not used in many everyday purchases, with people using cards instead; however, as one of the participants explained, power cuts - which sometimes last 2 weeks at a time - leave them unable to use cards, and, as a result, they are unable to purchase basic goods such as food or nappies. Another participant, who had not been to Venezuela in 6 months, joked about how she does not even know what the price of anything is anymore, as "prices are constantly changing".
❝
With power cuts, you wouldn't be able to use your card as the system would go down... sometimes 2 weeks at a time […] In the capital, I think it was working fine but we lived in a small village and the situation was more difficult; food stopped coming in, there was social unrest...
❞
All participants spoke, though not always openly and on camera, about the culture of fear present in Venezuela. The fear of reprimands was palpable, and it was the deciding factor behind some of the participants' decision to not appear on camera, more so for those with family still in Venezuela. As one participant explained:
❝
If you speak badly of the government, you can bother some people... if you had to work for a business that belonged to the government, you wouldn't be able to speak badly of the government or you would be fired. If you speak badly of the government and receive the aid they would give, food aid and things like that, you weren't able to speak badly of the government. If there was a march, you had to go to those things, and you had to always do it, it was mandatory, because if you didn't, they would take things away from you.
❞
In line with this, one of the participants - who belonged to the Venezuelan military - reported migrating due to fears of being forcibly imprisoned; she reported that military personnel are not allowed to leave their positions, which leaves military deserters with the only option of running away or facing time in prison. When asked why, her rationale for leaving was the same as all other participants who migrated despite having a job:
❝
The president said no one in the military could get leave, and I said [to my superior], 'I don't want to stay, I want to leave, I don't want to be here any longer as my salary isn't enough for basic needs'.
❞
Making the decision
Most participants said that migrating had been on their minds for some time, however, some shared how certain life events had acted as the catalyst to their decision to finally leave. For three participants, losing a direct family member due to lack of proper medical care was the triggering factor.
It was also common amongst participants to have sought better opportunities elsewhere before deciding to migrate southward. One of the participants migrated internally to a rural part of the country, in hopes that there would be better access to food. Multiple participants also moved first to the border towns of Cucuta and Arauca, both in Colombia, where they worked for months before deciding to continue their migration south. In these border towns, it was easier for them to find higher-paid informal jobs selling ice-cream, cigarettes or coffee on the streets, allowing them to send money back to Venezuela.
❝
My sister called me. She was in the state of Guarico and I was in Caracas, and she called me saying that they were out of power... she called me from my grandma's house, they were out of power and she hadn't been able to give her daughter her bottle as she had to clean it, and she was giving me all of these explanations and saying, '[sister], I want to leave, we're out of power, I am with the kids and feeling desperate', so I told her, '[sister], we have to go'.
❞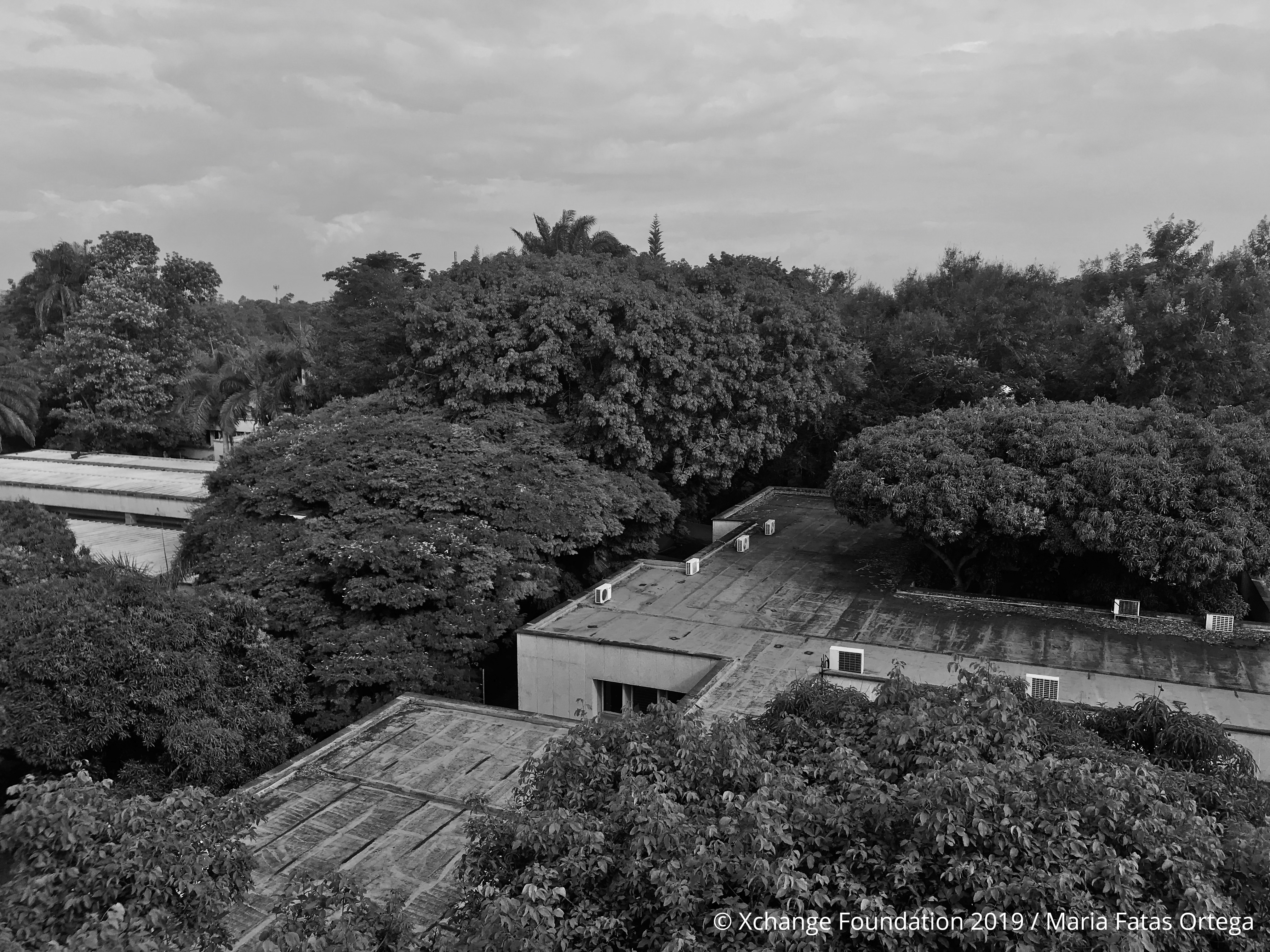 The journey
All of the participants traveled in groups; for some this included moving with extended family members who were also leaving Venezuela, and for others it included leaving Venezuela with their partners and children and joining groups of migrants along the way. One of the participants left her hometown in Venezuela pregnant and on her own; however, she soon joined a large group of fellow Venezuelans.
Cucuta and Arauca were the two entry points used into Colombia by the interview participants, with 11 of the interviewees crossing through Cucuta and 4 through Arauca. Only 3 of the participants crossed the border legally; the rest did not have the correct identification documents and, as a result, crossed illegally through the river – or 'trochas' as the crossing is referred to. Controlled by smuggling networks, the river crossing has a fluctuating price; some of the participants crossed for free or very little – 200 VES [0.008€] –, whereas others paid 10.000 or 20.000 COP [2.6 or 5.2€] per person.
Most participants followed similar journeys, with Bucaramanga, Bogota and Ibague being the main transit points. Some of the participants took buses for the first part of their journeys before their money ran out; a few walked the entire way, and the majority walked most of the way, getting lifts from strangers on some parts of their journey. A few mentioned receiving free bus passes from local religious groups for parts of the journey.
Some of the participants decided not to bring their children to Colombia with them, leaving them instead with family members back in Venezuela. A few participants said they had not thought about it as an option as they did not want to put their children through the hardships faced along the journey. Two of the participants also recommended that children are left behind, despite them bringing their children along.
❝
First, I would say that if they're going to get here trying to get free lifts like we did, they shouldn't bring their children, but at the same time I would also say that they shouldn't leave their children behind because the way of life here is different, and the first thing that Venezuelans think about is food. Here you don't go hungry, so it's hard for you to be here and leave your kid behind, not knowing if he's eating, while you are here eating a good plate of food.
❞
When asked what the hardest part of the journey was, all participants mentioned harsh weather conditions, violence, and physical exhaustion as the top three. Low temperatures were a particular problem at different stages of the journey. All participants reported either hearing stories, or seeing migrants suffering from extreme cases of hypothermia with some cases ending in death. This was reported mostly around 'Los Paramos', also described as 'El Paramo' or 'El Paramo de Berlin', which is located in the north-central Colombian department of Santander found in the Andes Mountains. Here, many migrants opt to continue walking overnight in an attempt to reach their destinations faster, and with temperatures dropping drastically at night this leads many to face the sometimes-fatal consequences of sub-zero temperatures. Such conditions make attempting the journey with a disability extremely challenging – this was an issue for one of the participants, and another participant's daughter. A participant also reported having to leave her husband on the border, with 5 of her children, as he also suffered from a physical disability which made it impossible for him to attempt the journey on foot. In addition, most of the participants traveling with children reported that their children got ill at different points of the journey; some reported being able to buy medicines over the counter. However, three of them needed care from trained professionals, one of which also lacked access to medicines.
❝
I have seen fellow Venezuelans that have had to be taken down [from Los Paramos] suffering from... frozen to death... because the night caught up to them and they wanted to continue walking.
❞
❝
A lot of people cross Los Paramos walking, I was lucky enough to get a lift with a bus, but I told my husband that when I was at the shelter, I saw a lot of people come down in a really bad state... they couldn't take it. They suffered from hypothermia... they came down dehydrated. There were some who pooped themselves, some were vomiting... peeing their pants […] When I was there, 16 Venezuelans died.
❞
All of the participants reported knowing about the existence of 'the Inchas', with the majority having had interactions with them on their journeys. As explained by one of the participants, the Inchas are groups of Colombians who target Venezuelans travelling on foot; they hide in different parts along the journeys and come at them with machetes and knives, sometimes robbing or assaulting them, or even raping the women. One of the participants reportedly fought off the Inchas, who wanted to rob him and the group he was traveling with. Two of the participants had altercations which ended with an assault and them being robbed of their documents. All participants reported travelling in groups to try to minimize the dangers.
During the journey, most reported having been gifted lifts by random strangers. All participants told stories of being given rides in 'colas' and 'mulas'; the former are usually private cars that offer lifts for free to Venezuelan walkers, the latter are usually bigger trucks that take migrants to certain places generally for money. When free lifts from strangers failed and they were too exhausted to walk anymore, some of the participants resorted to begging for money to take buses. Some even contemplated returning to Venezuela as they found the journey too difficult; they all reported seeing migrants turn around and attempt to make their way back to Venezuela.
Despite all of them travelling in groups, some reported being separated from their partners along the journeys. For some this happened because women were able to get lifts more easily than men, especially if they had their children with them. One of the participants had no communication with her husband for the 7 days they were separated, and for another participant communication was limited to a few Facebook messages she sent from phones borrowed from fellow migrants. A few participants also came across unaccompanied minors; two of the participants were travelling with partners who were minors.
One interviewee had done the journey twice, following an initial deportation back to Caracas from Peru. His second journey was reportedly the hardest out of the two, as this second time he was not traveling with his wife, nor any more women or children, which resulted in him being offered less lifts. He also stated that he was denied food at the shelters along the journey, as having sought aid from those places in the past meant he was not eligible to receive it again.
❝
To get here to Cali, I had to go through all the villages and there was a moment when we had to walk through pure mountains, very steep hills where you wouldn't see the end, high hills and then down, you wouldn't see the end. I lost all will, I was crying, my wife was crying, my friend's wife was crying as she was on her way to Peru, and we were going far too... We couldn't wash ourselves in 4 days. We didn't eat nor drink for a day and a half, all we did was walk […] The next day we left in the morning, walked for two hours and said, 'let's go back, I can't take it anymore', we hadn't eaten, hadn't drunk water, nothing... and we weren't begging as we were ashamed.
❞
Contact
Those with children and family still in Venezuela stated having regular contact with their relatives. However, as resources are limited, many do not own a mobile phone and as a result have to borrow phones from fellow Venezuelans in order to contact friends and family. One of the youngest participants reported talking to his mom as often as he could but he didn't have enough money to pay for the calls. However, he stated that his mother was not aware that he was sleeping on the streets and begging in order to survive. A participant whose wife was in Ecuador had not seen her nor their baby in over two months, and was only able to communicate through Facebook. He shared his hopes of getting the money to be able to join them in Ecuador soon.
Life in Colombia
The majority of participants had received a lot of help from strangers, both during their journeys and while in Colombia. Acts of solidarity between Colombians and Venezuelans were present in almost all of the interviewees' experiences, though it is important to highlight that whilst help from strangers was mentioned, interviewees reported they felt that they had no rights in Colombia. Most of them were sleeping outside the bus terminal in Cali, where they were allowed to sleep during the night but were forced to pack up their things and move during the day. Three of the interviewees were using some of the money they made selling sweets to pay for a room where four adults, one of them pregnant, and a baby would sleep. As none had formal jobs, they spent their days seeking employment, begging on the streets and selling sweets at traffic lights for spare change. The only help they were receiving was a free lunch at a soup kitchen.
❝
Our day-to-day is going out in the morning... we leave early as you have to leave early if you want to find work, and you have to knock door-by-door to see what you can get. And if you don't get anything, we go to a traffic light with the sweets and the girls, as we get more money if we have the children, and so we try to get some [money]. At bath time... around 11am, we have to be ready as that's when we go; we pay 1000 COP [0.26€] to take a bath, and then we go to the soup kitchen to eat some lunch, and that's the everyday routine.
❞
All participants struggled to adjust to their new reality in Colombia. Having worked most of their lives they all struggled to beg, with the majority stating that they felt shame about having to ask strangers for help, something that none of them had had to do before.
❝
Here in Colombia, selling sweets on the streets is seen as a job but in Venezuela we see it as begging for money, like if I was saying 'gift me something, help me out', and that's begging.
❞
❝
I was not used to selling sweets [on the streets], I cried when I got on the truck for the first time, I got on it the first day and I just cried and cried... I wasn't used to this. I had never, never, never done something like this, and they told me 'you have to do it, what else are you going to do? You need to think about your baby and your mom who is in Venezuela'. I got on one of the trucks and asked for help, and I just couldn't help but cry, and I... I asked God why he had abandoned me.
❞
When asked what the hardest part about life in Colombia was, they all agreed it was the lack of employment opportunities. When seeking employment, migrants are asked to have a job permit, and none of the participants had one nor knew how to get it, though one of the participants reported being told there is a web page that will allow them to register – the page, however, is currently closed. As a result of not having a job, migrants are left jobless and homeless, as renting a house without documentation and a job contract is impossible to do legally.
Despite the challenges, none of the migrants regretted their decision to come to Colombia. When asked what surprised them most about life in Colombia, this is what they said:
❝
If you need a medicine here, you go to any pharmacy and you get it. In Venezuela you can't do that... you'd have to pay 350.000 [14.4€], 400.000 [16.5€] VES for 3 pills, and if your monthly salary is 40.000 VES [1.6€], imagine how much you have to work for those pills.
❞
❝
When I got here what I felt was a deep sadness from seeing everything there is here and comparing it to what we have in Venezuela. That's what I felt... sadness and a need to cry. As soon as I got to Cucuta [border town], I saw so many things that I said, 'My God... I'm so close to my country, I'm a bridge away, and [in Venezuela] there isn't anything and here you have everything you want.
❞
All of the participants highlighted the bonds that are created between fellow migrants during the journeys, as well as during their stay in Colombia. These bonds led to the creation of strong relationships; for some, in the form of older migrants "adopting" younger ones.
❝
The people I have met have been an absolute blessing. All of us that stay in the plaza are very close, the days when we don't get food at the soup kitchen, we all get together and make a soup, we make whatever food by the river and well, we share... but we share in a different way. In Venezuela when you get together all you talk about is politics, you know? Whereas here you speak about food, about what you're going to have, you talk about sharing... you see a different light in children's faces.
❞
All participants, however, were able to share at least one incident where they had been discriminated against by locals. A few of them reported feeling looked down upon, as if they were "insects".
❝
That day we were waiting to be seen by the nuns, and we were at the terminal and [the police] came to get us out, but they didn't say 'look, you're going to have to leave as you can't be here'... nope. They said, 'all of these Venezuelans better leave, we don't want them here, you should leave before I bring a van and put them all in there, with the kids and all, I'm going to hit you' and things like that.
❞
Looking into the future
Colombia was the initial destination for six of the participants; the others had initially planned to continue traveling towards Ecuador, Peru or Chile. Many of the participants had changed their plans following the difficulties on the journey, with many wanting to find jobs and settle in Cali.
❝
I'd like to find a job, a stable job, but of course it's all a long process. They said they will open the web page [to register], but until we manage to get the permits, we're in a limbo.
❞
Another participant was planning on continuing to Lima, Peru, shortly after the interview; having only been in Cali for 3 days, she was waiting for her husband and male family members that were still walking to continue the journey together again. She also shared fears of being unable to join her husband's brother in Peru as they had heard rumors of increased border control at the Peruvian border. In fact, when asked none of the participants were aware of the requirements needed for southbound travel.
Ecuador was mentioned as the most popular destination for those Venezuelans seeking better opportunities beyond the Colombian border, with Peru also ranking highly.
None of the participants considered returning to Venezuela to live; when asked what would have to change for them to want to move back the most popular answer was "everything".
❝
What all Venezuelans are asking for is a change. A change in government, because that's not a government, it's a regime… some people won't dare speak about this but [in Venezuela] we have a regime, and if we don't do anything about it, it's going to turn into a dictatorship.
❞
❝
It would have to go back to what it used to when I was a kid, so that my kids have everything I had as a kid, all the comfort, the tranquility, the happiness... all of that would have to change, otherwise I will only go back to visit."
❞