Each incident is considered separately and uniquely so as not to undermine its weight and severity. Most respondents (69%) recorded more than one incident in their testimony. All respondents interviewed had either suffered themselves (73%) or witnessed (27%) a variety of all the primary incidents at some point during their journey.
Most frequently, respondents experienced detention and extortion; they were likely to suffer physical abuse if they were men, and rape if they were women; many were robbed or pressured into forced labour; often, respondents were held for ransom, or even witnessed killings and deaths of other migrants. During their journeys, respondents also faced harsh travelling conditions and inhumane living conditions; any suffered medical complications from dehydration, exhaustion, lack of food, and poor hygiene.
❝ The primary incidents considered in this research are: Kidnapping, Arbitrary Arrest/Detention, Human Trafficking, Slavery, Extortion, Physical Abuse, Torture, Rape, Robbery, Fraud, Injury by Gunfire, Killing, Death. ❞
The four incidents experienced or witnessed most frequently across all routes were:
Arbitrary Arrest/Detention;
Extrotion;
Kidnapping;
Physical Abuse.
These seem to have been experienced or witnessed to a larger extent by migrants travelling the Sudanese Route and the Mixed West African Route. However, there was a general feeling of chaos and lawlessness on all the routes taken by respondents. Incidents took place, not only at check-points, prisons, and compounds, but also at markets, streets, camps, places of employment, and in transport vehicles. This means that, irrespective of which route was taken, or the duration of the journey, respondents faced a continuum of violence and exploitation from beginning to end, at the hands of smugglers, government officials, gangs, insurgent groups, and abusive citizens.
The most dangerous country location for our respondents, was Libya and its borders (271 incidents). This is unsurprising, considering that all routes, including those from Asia, converged in Libya, and more specifically, towards the same hubs leading to the Libyan coast. Additionally, as detailed in the Context, Libya's breakdown in governance and border control since the revolution has created a hotbed for migrant smuggling and abuse. Respondents may take months or even years from when they first leave home to board a boat at the Libyan coast, most spending long periods of time in Libya, leaving them more vulnerable to abuse. "Hotspots" for abuses were located primarily in pre-departure coastal cities Sabratha and Zawiya, and the capital, Tripoli, where respondents were often held before being transported to the coast. Bani Walid and Sabha were common to three routes out of four.
Following this, Niger was the second most dangerous (32 incidents), then Algeria (16 incidents), Chad (12 incidents), Mali (11 incidents), Burkina Faso (10 incidents), Sudan (eight incidents), and Egypt (two incidents).
Incident Locations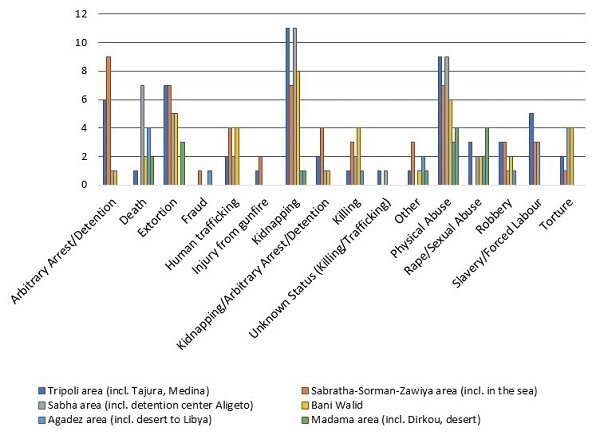 As evident in the graph, of all incidents, kidnapping occurred most frequently to respondents. This incident occurred primarily in Tripoli and Sabha, Libya. During these incidents, respondents were held for periods of time, for money, or trafficked to other gangs. Bangladeshi respondents explained that they were attacked, kidnapped or extorted while they were working in Libya. Most of these incidents took place in Tripoli or Benghazi.
❝
When I was on my way to the Bangladeshi embassy when I got kidnapped by 4 men and taken into a car. They took me to another part of the city in a building under construction. They asked for a ransom of 4000 Dinar. They called a friend of mine asking him for ransom. I got beaten several times with an iron pipe.
❞
Mohammed, Bangladesh, incident location Tripoli (Libya)
Similarly, respondents described extortion as well as physical abuse frequently across all routes and locations. However, both occurred most frequently in Tripoli, Sabratha-Surman-Zawiya, and Sabha. Extortion and physical abuse occurred at the hands of government officials, gangs, Libyan civilians, and smugglers. However, often, respondents could not tell who they were abused by, as many stated that perpetrators were imitating officials by "dressing up as" police officers.
❝
I was kept for twenty days without food and water with the kidnapper (dressed as police) demanding ransom from my friends and family.
❞
Munir, Sudan, incident location Tubruk (Libya)
High numbers of arbitrary arrest/detention (and uncertain cases of kidnapping/arbitrary arrest/detention) occurred at the coastal towns of Sabratha-Surman-Zawiya, as well as Tripoli, indicating that respondents may have been detained at their final stops during their land journey due to heavier border or police presence, or after being intercepted during the maritime segment of their journey. Up to August last year, around 8,000 of the estimated 400,000 migrants in Libya were detained in approximately 30 official detention centres in Libya, with many more in unofficial ones. This may shed light on why there were more reports of deaths witnessed in these locations; detained migrants are more likely to suffer from medical complications, severe long-lasting psychological issues or chronic illnesses or even disabilities caused by malnutrition, a lack of hygienic WASH facilities, or unattended wounds from torture.
❝
I was travelling through Surman on the way to Sabratha when the vehicle I was traveling on was stopped. I was arrested by people pretending to be police. They detained me for three months, and I was released after paying 2,900 Dinar.
❞
Idrissa, Guinea Bissau, incident location Surman (Libya)
As a result of incarceration, a number of other incidents often took place. For example, respondent's testimonies show evidence of slave trade emanating from prisons:
❝
When they take you to the prison, one Arab man can come and will ask for someone to work. The Arab Libyan men will buy a man from the prison and you become a slave to that man and work for him for free.
❞
Sawalo, Gambia, incident location Tripoli (Libya)
❝
I was kidnapped by force and taken to a compound to work there without receiving any pay as a slave.
❞
Bilal, Sudan, incident location Murzuq (Libya)
Slavery and racial discrimination in Libya have become an unprosecuted norm. Migrants are extremely vulnerable to abuse, particularly in Libya where racism is ubiquitous; male respondents were sometimes made to work on construction sites or farms while females were drawn into the sex trade. Evidence surfacing from recent investigations shows active slave markets and slave auctions in Libya, including in Zuwara, Sabratha, Gadamis, Zintan – locations featured on routes taken by migrants who took the survey.
❝
We were taken to a field and made to work at gun point. We were fed once a day and beaten like slaves.
❞
Abdul Kareem, Sudan, incident location Ajdabiya (Libya)
Tebu and Tuareg tribes in the south-west of Libya, most of whom had been employed by the military during Gaddafi's reign and who subsequently ended up unemployed, also joined the slave trade. Respondents mentioned "Tuareg rebels" who kidnapped, attacked and/or extorted money from them.
❝
In the desert near Agadez, Tuareg transport people… rob their money, beat and abandon them in the desert…
❞
Daouda, Guinea, incident location Agadez (Niger)
Five incidents, with no specific trend of place, recorded cases of racism shown by Libyan Arabs towards African migrants. Certain cases specifically indicate that they were refused healthcare and/or medical attention while travelling, or were asked for high amounts of money in return which they could not afford:
❝
I arrived in Bordj (Algeria) and got sick, an illness lasting three months. I tried to access healthcare, but the doctor said that I had to pay because I am not Arabic.
❞
Moses, Liberia, incident location Bordj (Algeria)
Others were beaten and/or experienced violence due to their race:
❝
In Sabha, 'black' people were targeted by Asma boys to be kidnapped to be held for ransom.
❞
Kelechi, Nigeria, incident location Sabha (Libya)
Many migrants within Libya face multiple barriers to any form of public healthcare due to discrimination as well as a lack of means of transportation, or distance from public medical facilities. Resultant health issues or disability from untreated medical issues only increases their vulnerabilities. Additionally, travelling long distances to access medical facilities increases migrants' vulnerabilities to kidnapping and robbery.
Torture had been experienced frequently by respondents. Most cases of torture were recorded in two specific locations: Bani Walid and Sabha, with two cases at the Sabha Detention Centre. This demonstrates the total lack of protection and human rights for migrants in Libyan detention centres. Torture also occurred at the hands of kidnappers. Often, respondents were forced to phone/video-call their families while the torture took place, with the perpetrators demanding a ransom. Methods of torture recorded by respondents included beatings with electrical cables, wooden sticks, iron pipes, hammers or other tools, smashing fingers/nails, sexual abuse, burning, denial of food and medical treatment, and humiliation.
❝
While I was kidnapped and taken to a garage, I saw how smugglers set fire to a woman and killed her. I witnessed a migrant trying to escape through a window which prompted the captors to shoot him dead, another was tortured using rocks and electricity.
❞
Aziz, Sudan, incident location Bani Walid (Libya)
It is worth noting that some accounts refer to minors being used as kidnappers and torturers.
❝
The people who arrested them were young (around 15 years old) with weapons and used methods of torture if the prisoners did not/could not pay (using electricity and other methods).
❞
Abu Hanifa, Sudan, incident location Bani Walid (Libya)
Cases of rape or sexual violence were recorded in all locations apart from Sabratha. Often, rape and sexual violence occurred at detention centres and check points or crossings. This demonstrates total abuse of power of authorities and smugglers, where sexual abuse is used as a form of extortion; migrant women are at their mercy, so that they can proceed with their journeys. Unwanted pregnancies and long term physical and mental health issues often result from such abuses.
❝
In Madama, I was stopped by the military who demanded a bribe. If the migrants refused to pay... people were sent to 'deal' with them. Girls were targeted and taken at night to be raped. The men were beaten using sticks and pipes.
❞
Tayo, Nigeria, incident location Madama (Niger)
❝
...my family and I were captured and beaten. We were detained, and in this place the kidnappers took women out individually and raped them. I was not taken because I was pregnant, but I feared that I would be. Myself and everyone else were powerless. I was kept in this prison (locked house) for two months before being released.
❞
Hassana, Nigeria, incident location Tripoli (Libya)
❝
I was raped by multiple smugglers during the crossing.
❞
Chichima, Nigeria, incident location Sabha (Libya) and other various locations
Although unclear due to the fine line between smuggling and human trafficking, the latter was present on all routes. Various testimonies refer to it:
❝
When I arrived at the checkpoint in Ajdabiya, I was requested to pay money. We said we could not pay so we were captured and sold to farmers.
❞
Abdul Kareem, Sudan, incident location Ajdabiya (Libya)
Though evidence of human trafficking was not clearly found in the testimonies of migrants taking the Bangladeshi route the nature of the Bangladeshi journey – travelling via various flights to Libya - indicates potential incidents of trafficking; respondents may have purchased flights via agents with the promise of finding work but were instead kidnapped and forced to pay more money for entry to Europe irregularly.
The desert
Desert journeys require special consideration, as most respondents' journeys included long periods transiting the harsh and dangerous desert environments in which many incidents (61) occurred. A significant number of these incidents were committed by rebels, smugglers, and the Libyan military. Respondents described incidents where smugglers abandoned them in the desert when they saw military or police approaching, effectively leaving them to die. Rebel or militia groups sometimes captured or attacked travelling convoys of migrants, even shooting and wounding/killing migrants.
❝
Military shot the migrant car thinking we were rebels.
❞
Jamal, Ghana, incident location Niger-Libya Checkpoint (Duruku)
29 respondents (17% of the total number of narrated incidents) recorded incidents happening in the Sahara Desert, one in three (31%) in Niger, one in four (26%) in Libya, one in five (20%) in Chad, and the remaining incidents in Sudan, Algeria, and Mali.

The desert also naturally poses more dangers of dying from harsh environmental conditions, including dehydration, starvation, and exhaustion. This is demonstrated by the fact that the most witnessed incident in the desert was death (11 incidents, almost half (48%) of the total number of incidents of witnessed death). The most experienced incidents in the desert were arbitrary arrest/detention (eight incidents) and physical abuse (eight incidents). Many testimonies also mentioned being attacked and/or kidnapped by Tuareg rebels in the desert who sometimes handed them over to Libyan rebels. These once nomadic tribes seem to have become part of a smuggling chain which delivers hundreds of migrants through dangerous desert terrain to the more central and busy hubs in the north.