Greek police used fire extinguishers and batons against migrants on the island of Kos after scuffles broke outside a makeshift processing centre at a sports stadium.
It's not clear why the scuffles broke out but hundreds of people, including children, were waiting in an interminable line for hours when the fights first started on Tuesday afternoon.
Kos Mayor Yorgos Kyritsis said the situation was "out of control", adding that he fears there will be bloodshed.
He said strained local services, including the police and coast guard, were unable to cope with the influx.
At one point, police officers from the neighbouring islands Rhodes and Syros were called in for backup. But things became even more chaotic after some officers started spraying migrants with fire extinguishers.
Eventually, things settled and migrants started being re-directed to the stadium again. A Greek police official said there were plans to deploy riot police squads to the island.
The incident took place a day after a police officer was suspended after he was filmed brandishing a knife as he controlled a crowd of migrants. The footage was captured by Associated Press Correspondent Dalton Bennett.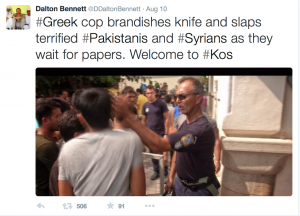 Greece's islands this year have been struggling to cope with an unprecedented surge of migrants mostly from Syria, Afghanistan and Iraq.
Figures released on Friday by the UN Refugee agency (UNHCR), show that Greece experienced a staggering 750% increase in arrivals so far this year when compared to the same period last year.
Some 124,000 refugees and migrants arrived by sea this year – as of 31 July – mainly to the islands of Lesvos, Chios, Kos, Samos and Leros, according to UNHCR.
And this happens at a time when the country is facing a deepening economic and financial crisis and its reflected in the state's weakened infrastructure.
In Athens, around 400-450 people – mainly families with young children – have been sleeping rough in the central park of Pedion Tou Areos.
UNHCR called the situation unacceptable and demanded that both the Greek government and the EU step up their effort.
However, Greek Prime Minister Alexis Tsiprias told reporters after a meeting for ministers on Friday the country's infrastructure could not handle the thousands of people arriving to the country.
"Now is the time to see if the EU is the EU of solidarity or an EU that has everyone trying to protect their borders," he said.
https://www.youtube.com/watch?v=t9_hMk0j5EM