Just over 7,000 unaccompanied minors made the treacherous journey across the sea from Libya to Italy in the first five months of this year, more than double the amount in the same period last year, according to the UN International Children's Emergency Fund (UNICEF).
Unaccompanied children made up over 92 per cent of the 7,567 children who crossed by sea to Italy between January 1 and May 31, 2016.
The data was released in a report, Danger Every Step of the Way, which highlights the risks that unaccompanied refugees and migrants face in their attempt to escape violence, poverty, persecution, and a lack of prospects in their countries.
The report documents the dangers that unaccompanied children face in countries like Niger and Libya, where they rely completely on smugglers and are often subject to exploitation. Some migrants use a "pay-as-you-go" system, working for weeks or months for money to pay for the next leg of their trip. UNICEF notes that these migrants are more likely to suffer abuse and become stranded.
"If you try to run they shoot you and you die. If you stop working, they beat you. It was just like the slave trade," Aimamo, 16, said of a farm in Libya where he and his brother worked for two months to pay the smugglers. "Once I was just resting for five minutes, and a man beat me with a cane. After working, they lock you inside."
Women and children in particular are at risk to human trafficking and sexual exploitation on their journey to Europe. The International Organization for Migration (IOM) estimates that 80% of Nigerian women and girls leaving Libya for Italy are victims of trafficking.
UNICEF expects the numbers of unaccompanied minors crossing the Mediterranean to increase as summer rolls in. There are nearly 235,000 refugees and migrants in Libya, tens of thousands of who are unaccompanied children that may soon make their way to Europe.
The threat of abuse does not end once the minors reach Europe. An assessment by the German Government and UNICEF in December 2015 shows that children are particularly vulnerable to violence, abuse, and exploitation in reception and temporary accommodation centres. Children are often kept in detention facilities or in police custody due to overcrowded child protection centre. Many do not have access to formal schooling and adequate psychosocial support. Some unaccompanied children avoid registering in reception centre and live illegally in Europe, afraid of the authorities and lengthy asylum procedures that could halt their journey.
Nearly 96,000 unaccompanied children applied for asylum in Europe last year.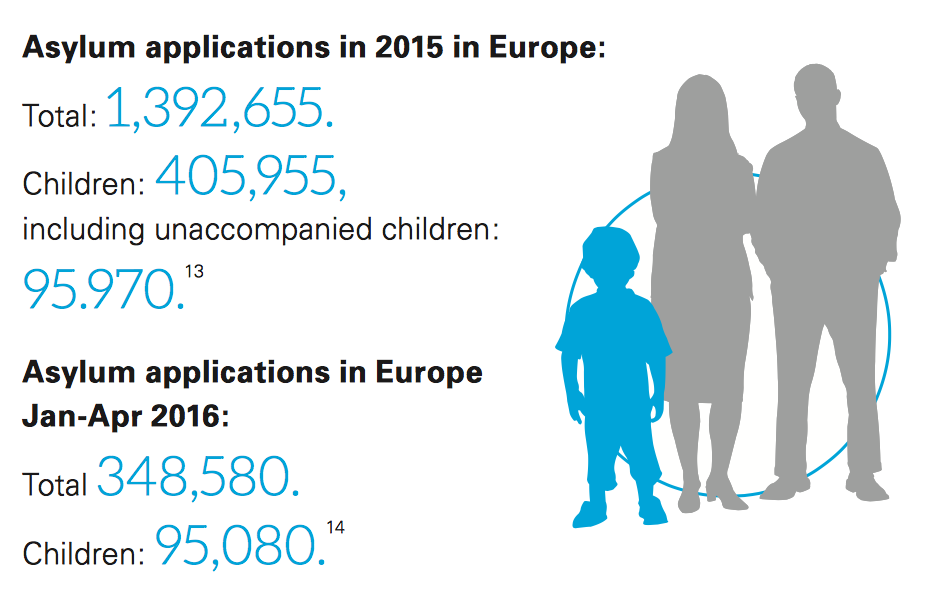 "We should never forget what is driving so many families to risk so much in the hope of gaining sanctuary in Europe," said Marie-Pierre Poirier, UNICEF Special Coordinator for the Refugee and Migrant Crisis in Europe. "And we should never forget that children on the move are first and foremost children, who bear no responsibility for their plight, and have every right to a better life."
Read the full report here.